Come aside seeks to turn our thoughts to God, our heavenly Father and to the comfort of his word.

Psalm 91:1 (Free trans.) "He who goes aside to sit quietly in the secret place with the Most High, will find him coming over so close that the man shall be lodging under the very shadow of the Almighty." This can be your experience.
21. Do Not Faint
A difficult year.
Looking back, March 2020 to March 2021 has been a year where sorrow and pain has knocked on many doors. Their companions are now loneliness, weariness and loss. Yet we can have strength, know hope through faith. I ask: What are the dangers?
1 Fainting at the throne of grace
Luke 18:1 reminds us that "Men ought always to pray and not to faint…"
Have you prayed for someone, some situation for a long time? Are there moments when you feel it has been of no avail. Do not faint or lose heart. Your persistence will be rewarded. God is working even in the moments you do not understand, even though you may not be aware of it as yet.
2 Fainting in the path of service
The apostle Paul urges us in Galatians 6: 9 "Let us not be weary in well-doing: for in due season we shall reap, if we faint not." Are you serving God in some way? Perhaps it may be in a Sunday School, youth organisation, or involvement in some other form of ministry? Do not give up. Your reward is coming.
3 Fainting on the road of life. 
Hebrews 12:5 states that we must when chastened "despise not" what God is doing, "do nor faint when you are rebuked by him." Seek God about what he is seeking to say to you; learn the lesson and press on.
4 Fainting in the problems of the way.
Paul writes in 2 Corinthians 4:16 "For this cause we faint not; but though our outward man perish, yet our inward man is renewed day by day." He had devoted himself to them in committed service, knowing a very special grace to serve. There was power from God to enable them, v 7-9, "We are hard-pressed on every side, yet not crushed; we are perplexed, but not in despair; persecuted, but not forsaken; struck down, but not destroyed." We must go on looking to God who can renew us day by day.
The real answer is found in Isaiah 40:28-31. The everlasting, the almighty God does not faint. "He gives power to the weak, and to those who have no might He increases strength. Even the youths shall faint and be weary, And the young men shall utterly fall,But those who wait on the Lord shall renew their strength; They shall mount up with wings like eagles, they shall run and not be weary, they shall walk and not faint." In all the darkness, the difficulties, the problems of life, remember that he is the one who gives power to the faint. He is sovereign over all. He knows just where you are. Have faith in him, commit your way to him, so that you may walk and not faint.
We serve the God of impossibility who seeks to revive and renew our fainting hearts. Trust Him.
20. Luke 2v1-20 DO NOT MISS THE TRUE MESSAGE OF CHRISTMAS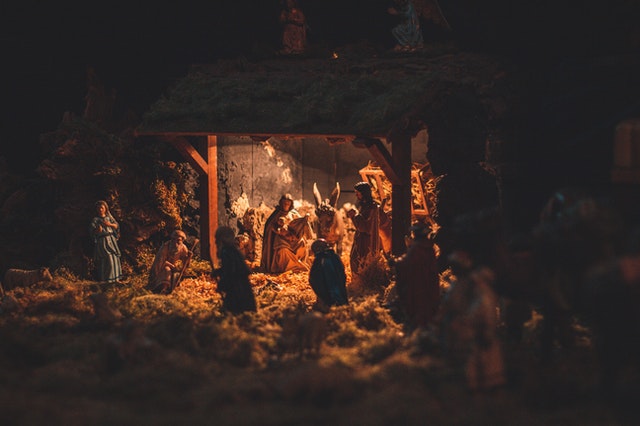 IT TELLS US SOMETHING ABOUT HISTORY v1-5.
God is in control of history. Luke refers to a decree from Caesar Augustus, better known as Octavian who ruled from 27BC to AD14. All had to be enrolled in his own town; so Joseph with Mary had to travel to Bethlehem. Nazareth to Bethlehem was a trip of about ninety miles assuming they bypassed Samaria.
For Bethlehem as the place where the Christ was to be born see the prophecy of Micah 5v1-2. God is at work fulfilling his word. Proverbs 21v1 reminds us that the king's heart is 'in the hand of the Lord.' God was in control. In days of pandemic God is STILL in control! He is working his purposes out. Seek him; trust him; pray to him, for he can change situations, hearts, 1 Tim. 2v1-2.
IT TELLS US SOMETHING ABOUT THE BIBLE v3-5
The Bible really is God's word and can be believed. The promise of Micah 5 was fulfilled. Also 'Joseph was of the house and family of David' – Jesus was David's Son. 2 Samuel 7v8-16 speaks of God establishing David's throne forever. Bethlehem is named 'a town of David' to bring out the connection with and thus to sound a regal note.
There are over 300 prophesies said to be fulfilled by the coming and ministry of Christ. Here are a few: Gen. 3v15 born of a woman; Gen. 12, 17, 49, Num. 24, he would be of the seed of Abraham, Isaac, Jacob, from the tribe of Judah; Hosea 11v1; Matt. 2v13-15 in Egypt; children would be killed at his coming Jer. 31, Matt. 2v16-18; the forerunner, John the Baptist, Isa. 40v3; he rides into Jerusalem on an ass; be betrayed and money used to buy the Potter's field Zech. 9v9; 11; rejected by men, silent before his accusers, spat on, hair plucked from his cheek, crucified with criminals and given a rich man's grave Isa. 50, 53; gamble for his garments, given vinegar to drink, no bone is broken; his hands and feet are pierced, Psa. 22v16-18; 34v20; 69v21.
So many prophecies were fulfilled in the coming of Christ, in his life and death. This book is God's word – seek to read it/be guided by it, especially in its guidance about salvation. Also reminds us that God's promises still stand. You can depend upon them.
IT TELLS US SOMETHING ABOUT GOD v6-7
God is reaching out to men. The angel to the shepherds appeared and they were terrified! The message is 'fear not, I have sent a saviour!' Christ did not come to judge the world but to save, John 3v17. He called all kinds of people to him; wise men from the East, Matt. 2v1-2; shepherds, humble, with a poor reputation Luke 2v8-20; religious men and women like Zechariah and Elizabeth, Simeon and Anna; despised people like tax collectors and sinners. He wanted to restore them to a relationship with himself; he was Emmanuel, 'God with us,' Matt. 1v21-23. But it took the cross, where he experienced divine forsakenness for our sin to bring us into divine fellowship; he can now be with us 'always,' 28v20.
IT TELLS US SOMETHING ABOUT OURSELVES v9-14
He came to bring us into peace, 'peace on earth among those with whom he is pleased.' He gives peace and joy, the joy of salvation. Peace among those who please him. Turn from your sin and independence of God; believe the good news, submit your life to him; all that needs to be done he did it on Calvary; trust in him, live to please him. Come like the shepherds to his side. Of the shepherds we read v15-16 they 'went with haste' to see him. Come without delay.
19. Romans 8:1 The Promise that Removes Fear
A changing world. People in virtual lockdown, older citizens, the vulnerable, the effect of the pandemic filling hearts and minds with a sense of dread and uncertainty. Lack of freedom, job insecurity, financial loss, plans crushed, shock, helplessness. One has been made to face up to the realities of life and death and the nearness of eternity. How do we stand before God? Romans 8:1 gives us a promise which brings to us peace and assurance. "There is therefore now no condemnation for those who are in Christ Jesus." Here we have:
AN ALARMING WORD "condemnation" It reminds us of the teaching found in the first three chapters of Romans, 1:18 – 3:19. Here Paul clearly states the fact that all are sinners, Gentiles, Jews, "that every mouth may be stopped and the whole world may be held accountable to God," 3:19. Again and again he reveals that we are all under God's wrath, or we are all condemned by our sin and shortcoming, There is wrath experienced presently, 1:18, 24, 26, 28, and in the future, on the day of judgment, 2:5. Paul reveals that your "hard and impenitent heart" is "storing up wrath for yourself on the day of wrath when God's righteous judgment will be revealed." He assures us that there is a day when God will judge "the secrets of men by Christ Jesus," 2:16.
No one is exempt when it comes to being under condemnation, "all have sinned and fall short of the glory of God," 3:23. If we are seeking to make light of our sins, we should remember Adam and Eve who took a piece of fruit. How significant was that? Actually, it was huge! Ten sins were wrapped up in that one act: disobedience to God's command; rebellion; stealing, for he was not given that tree; unbelief – they believed Satan who told them they would not die, rather than God; presumption – they presumed on the mercy of God; discontent – the sin was committed in Paradise, where they had everything their hearts could desire; covetousness; pride that they would be like God; ingratitude; lack of leadership by Adam in his relationship with Eve. What a heinous act! So it is with every sin of ours! We stand condemned.
Yet there is:
AN ASSURING WORD "There is therefore no condemnation." The "therefore" is pointing us back to earlier teaching. No condemnation for the guilty, only justification, where we are forgiven and accepted as righteous before God. Romans 3:25 states concerning Jesus who came, "Whom God put forward as a propitiation by his blood, to be received by faith." We deserved only judgment, yet God himself in love took the initiative in giving his own Son to bear the wrath for sinners. We receive justification when we respond in faith, trusting in the risen Christ who fully paid our debt. "Therefore, since we have been justified by faith, we have peace with God," 5:1. When can this be?
Here there is:
AN AMAZING WORD "now" This is a blessing we can know right now. Romans 5:9 affirms, "Since, therefore, we have now been justified by his blood…" We can know this experience, find peace with God and a standing of acceptance today!
Lastly, we have:
AN AFFIRMING WORD "those who are in Christ Jesus" Once again the "therefore" takes us back to Romans 5:12-21. We were all brought down into condemnation through Adam's act. The good news is that all who are now in Christ by faith "receive the abundance of grace and the free gift of righteousness," 5:17.
In the midst of our present crisis, I ask: Do you have peace and assurance? You can – through faith in the risen Lord. One important question – are you in Christ Jesus?
18. Luke 24:13 – 39 "Are you the only stranger in Jerusalem?" NKJV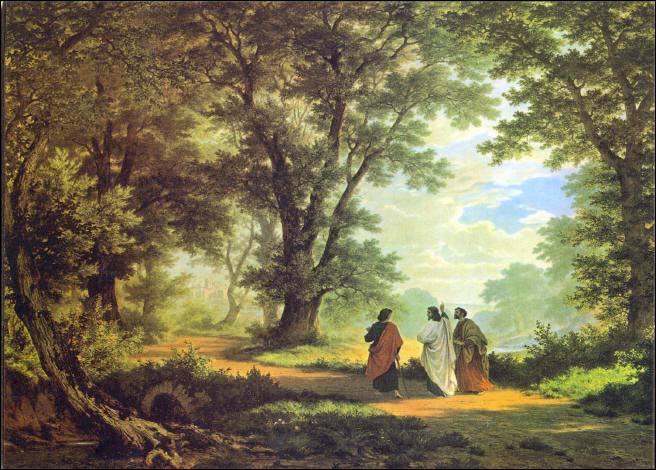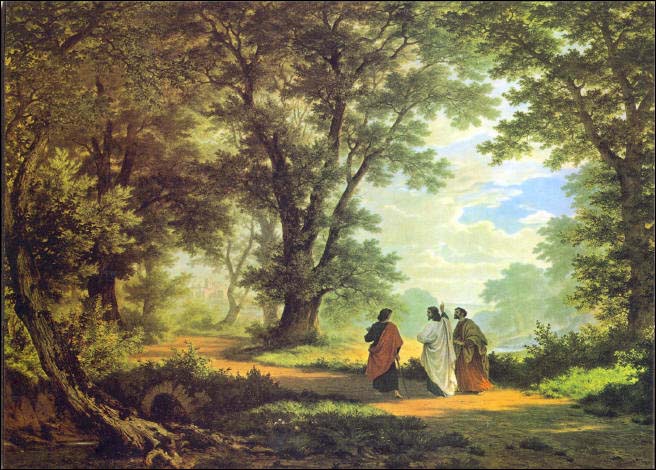 Jesus is risen! He appears to two discouraged, doubting disciples on the Emmaus Road. Walking away from Jerusalem, the place where disciples met, they were despondent, low in spirit and filled with sadness. We are told by Luke, "Jesus Himself drew near and went with them." This stranger asks 'Why are you sad?' They reply, "Are You the only stranger in Jerusalem, have You not known the things which happened there these days?"
What a question for Jesus! "Have You not known…?" He knew more than they knew! He knew the SUPPLICATION of Gethsemane, 22:39-46, where "being in an agony he prayed more earnestly; and his sweat became like great drops of blood falling down to the ground." He knew the EXAMINATION before the Council, Pilate and Herod, "mocking him as they beat him," 22:63-23:25. He experienced the CRUCIFIXION at the place of The Skull, 23:26-49, "there they crucified him, and the criminals, one on his right and the other on his left," as if he was the chief offender. He knew the RESURRECTION from the Tomb, 23:50-24:12, when the stone was rolled away. He had experienced it all.
Nevertheless, there was much more they did not know. They did not know THE PRESENCE OF JESUS, 24:15-16 "Jesus himself drew near and went with them. But their eyes were kept from recognising him…" They were his disciples, his little flock. In their sorrow, confusion, and loss he was there. He entered their home v29-31. He made their bleeding hearts to burn, v32 "They said to each other, 'Did not our hearts burn within us while he talked to us on the road'" In sorrow, confusion and loss he is there with you on the road, alive to journey with you… Let your eyes of faith be opened to see him, speak and share with him.
They did not know THE PROPHESIES OF JESUS, 24:25-27 "beginning with Moses and all the Prophets, he interpreted to them in all the Scriptures the things concerning himself." Do we know the Scriptures? Many of us are sadly lacking in our knowledge of the word of God, its prophesies and promises. He helped them understand the meaning of the cross – it was "necessary that the Christ should suffer these things and enter into his glory," v26. His death was divinely planned as the substitute for sinners. Have you come to grasp that as a sinner, unable to get right with God by your own efforts, he has paid the price for you to know forgiveness of sin and fellowship with God? They accepted him into their home and he became host rather than guest, breaking the bread. Recognising him and understanding his word they turned back to the place of fellowship, 24:33-35. Where are we at this moment in our knowledge of his word? In our relationship with Jesus? Is he given his proper place? Where are we in our fellowship with his people?
They did not know THE PLAN CONCERNING JESUS TO MAKE HIM KNOWN, 24:46-49 "that repentance for the forgiveness of sins should be proclaimed in his name to all nations…I am sending the promise of my Father upon you… They all learned of his commission for them to be witnesses and preach the forgiveness of sins, once they had been baptised or anointed, empowered by the Holy Spirit. Are we aware of his plan – i.e. do we know that we ARE PART of his plan? To be empowered by the Holy Spirit and take the gospel to all nations? Are you the stranger to his grace and power?
17. Isaiah 9:1-7. Hope through a Child.
Isaiah 9:1 highlights a people who have known distress and darkness. Why such sorrow? The Assyrians had inflicted great injury on the northernmost tribes, Zebulun and Naphtali and now they were hovering over the remaining portion of the kingdom of Israel. God spoke to them in their trouble and distress. He wanted to comfort them. Ultimately hope was in a child, v6.
Matthew reminds us of the ultimate fulfilment in Christ, Matt.4:12-16, "Leaving Nazareth he went and lived in Capernaum by the sea, in the territory of Zebulun and Naphtali, so that what was spoken by the prophet Isaiah might be fulfilled…a people dwelling in darkness have seen a great light, and for those dwelling in the region and shadow of death, on them a light has dawned." That light was the light of Christ.
In Isaiah 9 there is increasing joy, "as with the joy of harvest, as they are glad when they divide the spoil," 9:3. The trappings of war are "burned as fuel for the fire," 9:5. The words, "in battle tumult" reminds us of the confused noise of the tumult, the sound of marching, the shouts of the conflict, the rattling of the armour. The weapons of war, garments red with blood, the heavy boot of the warrior's tread, these shall all be burnt up in preparation for the kingdom of universal peace. Who will accomplish this? Isaiah reveals that instead of some latter-day Gideon, cf. v4b, it is the child.
We live in distressing and difficult times. Many are afraid because of the pandemic, climate change, the increasing violence. Sadly, society is more akin to the lifestyle highlighted in Ezekiel 16:49, pride, excess of food, prosperous ease. Many do not want any disruption of this. Others have suffered such loss of family loved ones, jobs, security. How could things change – in the seventh century BCE and twenty-first? God offers hope – through a child, Jesus., although he is no longer a child. How does Jesus drive away sorrow from human hearts? The prophet Isaiah, gives the answer by drawing our attention to the advent of Christ and to the four names by which the coming Christ would be known.
THE MISSION OF THE CHILD v6
The important words here are "unto us…" It was for us that he came from heaven, for our good, our salvation, not for angels, but for men… He was "born" as a child. The statement focuses upon his humanity, his incarnation and birth, which is spoken of in the present tense, though future, because it is certain. He really became man, assumed a body, soul and spirit, partaking of the same flesh and blood with those who would be his children. To actually be a mediator for sinners the Christ had to be "the man, Christ Jesus," 1 Tim. 2:5. He came to take our guilt upon himself. He was also "given," as the Son. He is pre-eminently the gift of the God of love. When we could do nothing to get right with God, no works of ours would avail, God himself took the initiative in love and gave his Son to be the sacrifice for sin. There is hope!
THE KINGDOM OF THE CHILD v6-7
The government shall be upon his shoulder. He is king! He brings a SPIRITUAL kingdom; John 3:1-7 – God can change our hearts as we are born again into his kingdom; he will in the future when he returns establish his MILLENIAL KINGDOM and then his ETERNAL KINGDOM. He establishes his kingdom "with justice and with righteousness from this time forth and forevermore." Most kingdoms have been established through blood-letting, or by an unjust overthrow of others. On the contrary, the administration of the Son of God shall be established in righteousness, and shall be destined to extend and perpetuate justice and righteousness forever. What a future is planned for this world! The word "zeal" used here denotes God's unfailing purpose in bringing this to pass.
THE ALL-SUFFICIENCY OF THE CHILD v6
The prophet Isaiah now reveals the fullness of this ministry in the Messiah's wonderful name. The titles, which, in fact, all reveal his divinity, remind us that he is all-sufficient to meet every need of his people.
"Wonderful Counsellor" – (1) TO GUIDE US. First, Jesus was sent into the world to announce God's so great salvation. "It was declared at first by the Lord and was attested to us by those who heard," Heb. 2:3. In John 14:6, Jesus revealed that he himself is "the way, and the truth, and the life." But this is not the full extent of his guidance but rather, just the beginning. Prov. 3v5-6, encourages us to trust him, "Trust in the LORD with all your heart, and do not lean on your own understanding. In all your ways acknowledge him and he will make straight your paths." Every step you can walk with him.
"the Mighty God" – (2) TO UPHOLD US. It is significant that the word for "God" is not Elohim. Occasionally this word could be used in the OT when conveying a lower sense of those who are representatives of God, Here the word is El, which is never used by Isaiah, or any other Old Testament writer, in any sense other than that of absolute deity. The Son given is possessed of all the power of God, in times of darkness and sorrow, he can give you the strength you need to carry you through.
"the everlasting father" – (3) TO CONSTANTLY CARE FOR US. Or "the father of eternity." It is not that Jesus is the Father – it is pointing to his fatherly care and reminding us that it is unceasing. We recall Heb. 4:15-16, where he is at God's right hand and has compassion. There is not one burden he cannot bear, or will not continue to bear. We recall Matt. 28:20, to those who were sent to disciple all nations, he promised "And behold, I will be with you always, to the end of the age." When Martha and Mary lost their brother, "Jesus wept," John 11:35. He shared their pain and shares yours also. You can go to him at any moment.
"the prince of peace" – (4) TO GIVE US HIS PEACE. Isa. 57:21 reveals that as sinners we have no standing of peace before him; But Col. 1:20 gives us the good news that Christ "made peace by the blood of his cross." He removed every obstacle to peace with God when he took the place of sinners and paid the price. Now as Rom. 5:1 affirms, "being justified by faith," we enter into the status of peace with God; the wrath is removed. But he must be your Prince if you want his peace.
In all our present pain, sorrow and uncertainty, the sad fact is that many never lift their eyes toward heaven; yet for us Jesus was born and died on the cross, rose and ascended on high; he is all-sufficient and available to meet your need.
16. God's Gracious Provision – The Sin Offering.
Leviticus 4:1-35; 6:24-30.
There are many people who find themselves struggling with loneliness; perhaps through bereavement or the recent days of lockdown. These can become days when suddenly they recall things long buried in the past which the devil reminds them of. Our sins and failures can rise up before us. How wonderful that God is a loving God who has made provision for us. There is an example of this in the OT, when God brought his people out of Egypt. The provision was the Sin offering. There were five Levitical offerings arranged by God. All were required to show the wonder of what Jesus accomplished by his one sacrifice for us on the cross. But the Sin Offering was provided to meet a particular need.
THE PROBLEM WHICH REQUIRED THE OFFERING
Here Moses speaks of "sinning unintentionally" or "sins of ignorance," 4:2. The point is that when the individual who has committed sins "in ignorance", realises what he has done, he must act, whether he is a priest, 4:3, among the congregation, 4:13, a ruler, 4:22, from the common people, 4:27. We ought to note that none were really left out. God in his love had provided a way to avert wrath and enable fellowship to be maintained.
THE PROVISION OF THE OFFERING
The Sin Offering was a provision by God, in love, for those who had sinned. The offender, e.g., the anointed priest, "he shall offer a bull", v1-3, 14; "a goat", v23; "a lamb", v32; see also 5:7, 11-13. The instruction in v4 was for the offender to "lay his hand on the head…"; v15, "the elders shall lay their hands" etc. By this act the offeror was saying, "This is or me." We are thinking about the transfer of the guilt, about the imputation of the sin to the sacrifice. When the devil accuses and we recall past failure remember that a loving God has taken the initiative. In 2 Cor. 5:21 Paul writes, "For our sake he made him to be sin who knew no sin, so that in him we might become the righteousness of God."
In v6 we are told that "the priest shall dip his finger in the blood and sprinkle part of the blood seven times before the Lord…" He was to sprinkle the blood seven times before the Lord in front of the inner veil" and for the congregation, the blood is put "on the horns of the altar of fragrant incense before the Lord," and then "all the rest of the blood" he pours out "at the base of the altar of burnt offering." Seven stands for the perfect number and spoke of them, both the anointed priest and the whole congregation being forgiven and given a perfect acceptance (temporary of course for them, eternally for us). Acceptance was through the blood. When it comes to a leader or ruler and for the individual, the blood is touched "on the horns of the altar of burnt offering" and pours out the rest of the blood beside it, v 25, 30. The blood applied on their behalf only as far as the horns of the brazen altar reminds us that this was the boundary of access for the ruler and the individual into the tabernacle. The fact is that the blood went as far as they could go and secured their continued acceptance.
THE PARTS OF THE OFFERING v8-12.
Here we consider the fat and the flesh. The fat or the fatty parts of the animal (v 8-9) was burnt on the altar – it was for God alone. The fat was not eaten by the priest, but burnt "as a pleasing aroma to the Lord" – it would represent or symbolize his satisfaction in and acceptance of the sacrifice, see v31. In the case of the anointed priest and the whole congregation, the flesh was to be carried without the camp and burned. The tabernacle was at the centre of the camp with the tents around it. The flesh was carried right outside. What can be said about this? First, this means that it was put right out of fellowship with God and his people. We remember that this is where Jesus went for us bearing our sin. In Matt. 27:46 Jesus cried out, "My God, my God, why have you forsaken me?" This was because "the Lord has laid on him the iniquity of us all," Isaiah 53:6. He experienced God forsakenness to bring us into divine fellowship!
THE PARDON THROUGH THE OFFERING
There is much more that could be noted here, but this was the basic message. In v20 the blessing is announced, "it shall be forgiven him." Jesus himself was the answer to the offering "without blemish", v3, 23, 28. Sometimes a female rather than a male was used to make clear that the atonement was not just for the men of Israel. Women were not left out and could know the same blessings. Also, it was possible for the poor to know this blessing. In 5:7-12 we read "if he cannot afford a lamb then he shall bring…two turtledoves or two young pigeons…or a tenth of an ephah of fine flour…" For the extremely poor person the priest would burn a portion of it on the altar on top of the offering made by fire. In this way the priest will make atonement for him for any of these sins he has committed, and he will be forgiven. The offerings, one with the blood, offered together would provide the atonement.
So, whether it was the anointed priest, or the whole congregation, or a leader/ruler, or one of the common people, for the poor, even the extreme poor, by the same sacrifice forgiveness was promised – and more! The God of Israel is also your God and in spite of all our failure, what the devil would try to get us to recall, by the cross Jesus has brought to you forgiveness, acceptance, fellowship, assurance. He has met your need. Confess your sin and "he is faithful and just to forgive us our sin and cleanse us from all unrighteousness," 1 John 1:9.
I hear the accuser roar,
Of ills that I have done;
I know them well, and thousands more;
Jehovah findeth none.
15. Jesus Risen and Ascended.
Acts 1:1-11 "You will be my witnesses"
Acts is the second part of a two-volume work. It will outline the progress of the kingdom after the cross and resurrection. Chapter one gives us the moment of his ascension.
WHO THEY WERE WITH v1-3
Jesus "presented himself alive to them…by many proofs, appearing to them during forty days…" Not a few proofs -many proofs, during forty days! They were with Jesus, who demonstrated that he was truly alive! It was not just that they had "a feeling" that he was with them – a curtain moved or a door creaked. He is seen for forty days. His resurrection is sure. This means that he is alive to be with you! In Heb. 13:5-6 we read "I will never leave you nor forsake you. So that we can confidently say, 'The Lord is my helper; what can man do to me?'"
WHY THEY WAIT v 4-8
They were to wait at Jerusalem "for the promise of the Father…you will be baptised with the Holy Spirit not many days from now," (1:4-5). The promise of the Father will be a reference to the promises of the giving of the Holy Spirit in the OT Scriptures, e.g., Isa. 32:15; Joel 2:28-32. In Luke's Gospel, Jesus himself was anointed by the Spirit at his baptism (Luke 3:21-22) and goes into ministry full of the Holy Spirit. In Luke 4:1 we learn that "Jesus, full of the Holy Spirit, returned from the Jordan and was led by the Spirit into the wilderness." In his ministry, he was guided and empowered by the Holy Spirit. Jesus now makes clear that the apostles need that same empowering of the Holy Spirit, as they were being sent out as witnesses. He must come upon them as he did upon their Master.[1] What we need is the fullness. To be open to the Holy Spirit, to let him empower and control.
The disciples ask about the time of the restoring of the kingdom to Israel, v.6. Jesus stresses that they must leave the timing with God. Something else was the priority. Before that happens, important things were to fill the interim period – the world-wide mission of God, beginning from Jerusalem!
WHAT THEY SHOULD BE V8
"You shall be witnesses." Luke's focus is not on future eschatological happenings but the present work of the Spirit, enabling the task of witness to the ends of the earth. So, Jesus speaks of the kingdom of God i.e., the present kingdom, its proclamation and its progress from the early stages as churches are planted from Jerusalem to Rome, as the book will outline, (Acts 8:12; 14:22; 19:8; 20:25; 28:23, 28). They had a vital role to play in sharing the Gospel. Ours is a similar responsibility.
HOW THEY MUST GO v 9-11
Marshall[2] points out that it is only Luke who describes the ascension as a visible event. The event is mentioned again in Eph. 4:8-10; 1 Tim. 3:16; 1 Pet. 3:22 and its theological significance does not take away from its factuality. It is however clear that it is not so much the event that is central as what is said. Heavenly visitors challenge the watching disciples. "Men of Galilee, why do you stand looking up into heaven?" Was this not really a rebuke? Had they not been given a task? They had received the final command of Jesus before he left them. They had a message to take to the world. Had they not already been commissioned to go? See Matt. 28:16-20; Mark 16:14-20; Luke 24:45-49; John 20:21.
Beware of being distracted from this obligation. They should lay aside apocalyptic speculation, v 6-7. Yes, they were told that he will return, literally, bodily. His ascension was like a pattern for his return. But now, there was much to do, much to share, the mission message. We are in the last of the last days. Time is short. 2 Cor. 5:10 reminds us, "We must all appear before the judgment seat of Christ…" Must we not get on with the work?
WHERE THEY WENT TO v 12-14
The disciples return to Jerusalem from Olivet, from which he ascended into heaven[3] to "the upper room where they were staying." Is this the "upper room" where the Lord's supper was also held? (Luke 22:10-13). Is it "the house of Mary" mother of John Mark (Acts 12:12-13)?
Luke lists eleven apostles (see also earlier Luke 6:14-16). Here we have the core of the church in the NT. Also, as part of their number we find women as disciples of Jesus (Luke 8:2f.; 23:49; 24:10). Mary, the mother of Jesus is here, also "his brothers" (see Mark 6:3). What a difference from John 7:3-5, "not even his brothers believed in him." Now they are part of the early church in Jerusalem – the physical family plus being in the family of faith – and before long one of them, James will take a leading role among them (1 Cor. 15:7; Gal. 1:19). Luke tells us "all these with one accord were devoting themselves to prayer." The important point is Jesus had ascended but they could still reach him on their knees; they could still cry out to him. Prayer was the means of blessing through all of the Acts. Risen! Exalted! But still there, available, all-sufficient. Just a prayer away.

---
[1] Witherington, in a footnote, makes the point that the receiving of power from on high has chiefly to do with witnessing. Luke is not commenting on any soteriological or ecclesiological significance, or to church offices. The reception of the Spirit by the Samaritans or Cornelius led to them becoming witnesses, "and this book is about witness." The Acts of the Apostles, A Socio-Rhetorical Commentary, 112, n. 30.
[2] I. H. Marshall, Acts: An Introduction and Commentary, Nottingham: Inter-Varsity Press, 2008, 64.
[3] Luke 24:50-53 mentions Jesus leading them out "as far as Bethany…" This was a village on the eastern slope of the hill – see also Luke 19:29.
---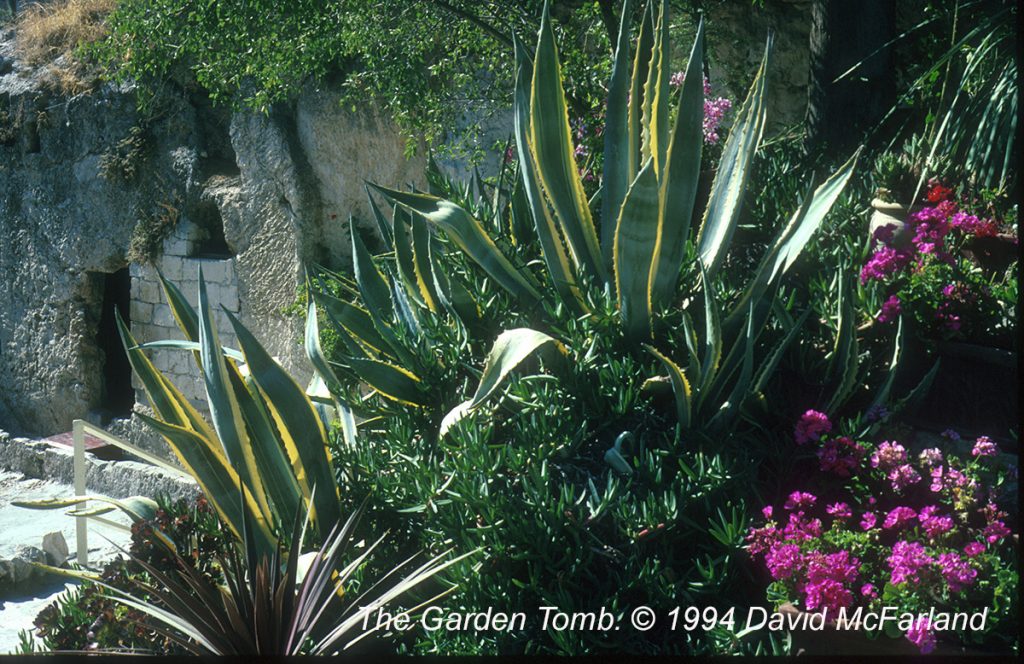 14. The Resurrection.
Luke 24:34 "The Lord is Risen indeed".
Proofs of the resurrection are not in doubt. The tomb was empty, the Lord was seen (for over forty days! The disciples were changed. Here in Luke 24:34 the disciples could announce the glorious event. "The Lord is risen indeed!"
Someone might ask "So What?" "Explain the real significance."
There is ASSURANCE OF SALVATION
If one sin of ours was still unaccounted for, Jesus would still be left under judgment. But the word of God says of death, "It was not possible for him to be held by it," Acts 2:24.
Rom. 4:25 he was delivered for our offences…raised again for our justification. The resurrection is proof that God has accepted his sacrifice, his substitution for us. We are saved!
Heb. 10:12 "when Christ had offered for all time a single sacrifice for sin, he sat down…" The work was done, the debt was paid. There was need of no more offering, v18.
1 Cor. 15:20, 23. His resurrection comforts in our times of loss for he is "the firstfruits, then at his coming those who belong to Christ" They will rise again!
There is POWER IN SERVICE
Phil. 3:10 Paul knew "the power of his resurrection" in communion with him; Eph. 1:19. God's immeasurable power is "toward us" who believe. Look to him every day.
There is COMPANIONSHIP ALL THE WAY
In his exile on Patmos John in Rev. 1:10-19 "heard a voice, turned to see…I am alive for evermore". The risen Lord was with him. He says "I am with you always…" Matt. 28:20.
There is OBLIGATION TO WITNESS
In Luke 24:46-48 Jesus commissioned his disciples, "repentance for the forgiveness of sins should be proclaimed in his name among all nations…" Not only across the sea, but across the street.
There is JUDGMENT TO COME
Acts 17:30-31 "he (God) has fixed a day on which he will judge the world by a man whom he has appointed;…he has given assurance to all by raising him from the dead." When God raised Jesus he was assuring all men that they must meet him. We must NOW repent and find mercy through his sacrifice for sinners on the cross.
Simon Peter had denied the Lord and was deeply distressed. When the women came to the tomb and found that Jesus was risen the angel said to them "go tell his disciples and Peter," "Do not forget about Peter." The Lord was not finished with Peter. When Jesus rose we learn from this verse, v34 not just that the "Lord is risen indeed" but that he "appeared unto Simon". You need to come to him, to have a personal meeting with him. You can start again. "If we confess our sin, he is faithful and just to forgive us our sin and to cleanse us from all unrighteousness," 1 John 1:9.
There is PEACE IN LIFE'S UNCERTAINTY
The risen Jesus appears to John on Patmos and announces, "I am the first and the last, and the living one. I died, and behold I am alive for evermore and I have the keys of Death and Hades, Rev. 1:17-18. In days of crisis, fear, when life is uncertain, there is peace in knowing that the risen Christ has the keys of life and death. He is sovereign. You are in his hand.
13. WILL YOU LIFT YOUR EYES TO HEAVEN? THE GODS OF EGYPT
"on all the gods of Egypt I will execute judgments: I am the LORD."
Exodus 12:12b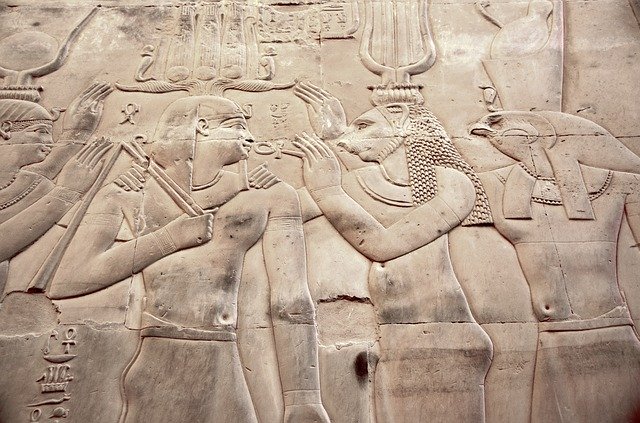 God sent Moses to lead his people out of slavery in Egypt. But Pharaoh refused to let them go. Therefore, God sent the ten plagues. When the last one was being announced – that God would send his destroying angel through the land to strike the firstborn of man and beast – we read: "on all the gods of Egypt I will execute judgments: I am the LORD."
Ten times Moses stood before Pharoah with God's message, "Let my people go." Ten times he was told by Pharaoh "no." Each time, a new plague came down on Egypt and the gods of Egypt could do nothing to prevent them. Archaeologists and historians have provided information for expositors about the many gods of the Egyptians at the time of the Exodus. Gerald Flurry in the trumpet.com has outlined how the gods of Egypt mentioned below were revered and worshipped by the people. The judgments/plagues demonstrated their utter helplessness before the Living God, the Almighty.
The Nile turned to blood. The river was believed to be the bloodstream of Osiris. Where were the gods Khnum, Hapy, Nu or Taweret, Buto and the deities of the Nile Delta?
When God sent frogs upon the land, where was the goddess Heket, wife of the creator god, who has the head and body of a frog?
The lice came from the dust of the ground. What about Geb, the earth god? Why could Egypt not be spared?
The plague of flies or swarms of the scarab beetle points us to Amon-Ra, creator and king of the gods, who was pictured with the head of a beetle.
In the plague of cattle, we remember that at least four gods were said to be linked to domesticated animals: the Apis bull of the god Ptah; Mnevis, sacred bull of the god Ra; the cow-headed goddess Hathor; and Khnum, the ram god. None could halt the destruction of Egypt's livestock by the virulent disease. Israelite animals were not affected, while Pharaoh's died in their thousands.
When painful boils came on the Egyptians, where was Serapis, the god of healing? Or Imhotep, god of medicine? Or Thoth, the god of medical knowledge?
The coming of the hail, the seventh plague, destroyed the flax and barley. Nut, the sky goddess, or Shu, the wind god, or Horus, the hawk-headed sky god of upper Egypt, could not stop this plague.
The locusts came eating what remained of the barley and the leaves on the trees. Nepri and Ermutet, the gods of grain, could do nothing.
The sun was darkened and a blackness settled over Egypt. Amon-Ra, the great sun god of Egypt, was powerless! Tem, god of the sunset, and Shu, the god of sunlight and air, could not stop this plague.
Last comes the death of the firstborn, the tenth plague in Exodus 11. Min, the god of procreation; Isis, the great mother goddess, a healer and protector, supposedly able to bring the dead back to life; the childbirth goddess Hathor; and the sacred Apis bull, who was itself said to be a firstborn—none could prevent the widespread death of firstborn humans and animals.
By sending the plagues God was giving the Egyptians every opportunity to repent. Time and time again, Pharaoh could have changed his mind, repented, experienced the mercy of God and received blessing for his obedience; but he did not. In the end, Pharaoh had to pay the price for hardening his heart. In his pursuit of the Israelites, he was drowned with his armies in the Red Sea.
In our present crisis, the coronavirus plague, the tragedy is that no-one turns their eyes toward heaven; no one cries to him for his help. In modern culture, we have made false gods of many things, forgetting to acknowledge, never mind worship the Living God, the Almighty. Yet Scripture clearly affirms, "You shall have no other gods before Me" (Exodus 20:3). How long will we continue to shut God out of our world? Alternatively, we can turn to him in repentance and find mercy. The sacrifice of the lamb and the blood sprinkled on the lintel and side posts of the door by the Israelites for deliverance from the judgment on the firstborn (Exodus 12) reminds us of the love of God to deliver sinners from his judgment; he took the initiative by sending his own Son to pay the price that we can be forgiven and be reckoned among his people. "Christ our Passover was sacrificed for us." (1 Cor. 7:10).
If what is happening is claimed to be "an act of God," will we lift our eyes toward heaven and seek mercy from the only true God? In addition, when we experience loss, he is "the Father of mercies and the God of all comfort," (2 Cor. 1:3-4).
12. With Jesus in the storm
Matthew. 14:22-36
Each Gospel has its own distinctive purpose. Matthew's Gospel reveals the failure of Israel and the coming of the new world-wide people of God. In Matt. 21, the Parable of the Vineyard, Jesus announces (speaking particularly to the Chief Priests and Pharisees (v. 45), "The kingdom of God will be taken from you, and given to a people producing its fruits," (v.43). In the Great Commission, Matt. 28:19, Jesus commands, "Go therefore and make disciples of all nations…" There would be a new world-wide people of God! A universal church – note that only in Matthew's Gospel do we have the announcement made by Jesus "on this rock I will build my church…" (Matt. 16:18) and his direction to a wronged party that as a last resort, "tell it unto the church…" (Matt. 18:17).
Are you part of the church? Are you someone who has come to repentance and faith and now true discipleship? Then this passage is especially for you – as it has been for the church down the centuries. Jesus is with you in the storm…Remember Job. 5:7 "man is born to trouble, as the sparks fly upward." Also Isa. 43:2 "WHEN (not if) you pass through the waters, I will be with you…"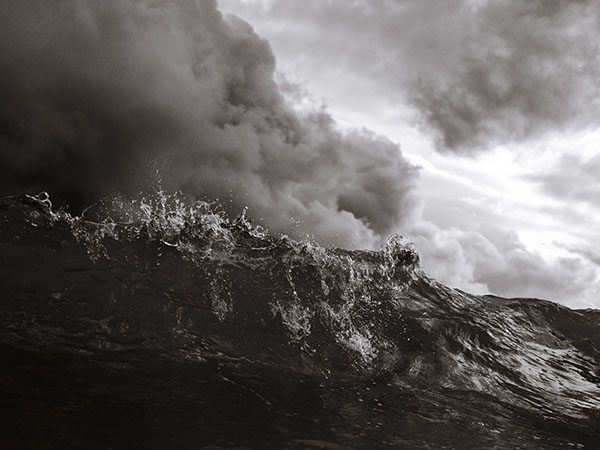 Note here:
THEY WERE SUBMISSIVE v. 22 "he (Jesus) made the disciples get into the boat…" They were following the Lord's plan, doing the Lord's will but they ran into the storm. They were not out of the will of God, but the trial came…
THEY WERE SEPARATED v. 23 "he went up on the mountain by himself to pray." They were alone. Often in trial we are alone…but Mark 6:48 says "he saw that they were making headway painfully…" It was the fourth watch, the last period of the night. How precious to know that he still sees you in the trial, in those painful circumstances – but he came to them.
THEY WERE STORM-TOSSED v.24 they were "beaten by the waves, for the wind was against them." The Devil was out to destroy them. There was great blessing to come on the other side of the lake – see vv.34-36 where Jesus was to heal a vast multitude throughout the whole region by touching simply the fringe of his garment. Sometimes the Devil can be allowed great power – as in the situation of Job 1:12-19 where God said to Satan, "Behold, all that he has is in your hand" and there was "a great wind came across the wilderness and struck…the house…and it fell" on his seven sons and three daughters "and "they are dead…" So, the Devil can send a storm – if he is permitted. Are you under attack?
THEY WERE STRENGTHENED vv. 25-27 Jesus came "walking on the sea" saying, "Take heart; it is I. Do not be afraid." They had his presence in the storm and his timely help. He will be with you strengthening you in the storm!
THEY FOUND HIM ALL-SUFFICIENT vv. 28-33 Peter actually gets out of the boat and walks on the water. But he takes his eyes off Jesus and "beginning to sink he cried out 'Lord, save me.'" Immediately Jesus stretches out his hand and "takes hold of him."
This was the message for the church in trial – Jesus sees; he is with you and if you keep your eyes on him he will hold you up! Walking on the sea reminds us of verses as in Job 9:8. About the almighty we read "He alone stretches out the heavens and treads on the waves of the sea." Here Jesus reveals to his church that he is fully divine, fully God. Matthew reminds us how they worshipped Jesus here by saying "Truly you are the Son of God!" (v.33)
Storms will come, painful situations will arise; you will feel totally alone and forsaken. But he knows; he is with you; he has almighty power and is all-sufficient!
11. Do you need an Audience with the King?
Esther 5v1-14; 7v1-10
Throughout the many Provinces all Jews were to be destroyed at Haman's request. Esther is told this by Mordecai; she offers to go and speak with the king, a perilous thing to do; she could be executed, 4v11, 15. He was a heathen king but may serve to illustrate what it means to draw near to the One who is always ready to receive us.
1. What she was ARRAYED IN. v1
She put on her royal robes.
God has given to those who have faith in Christ a perfect robe of righteousness, Rom 3v22; Phil.3v9.
2. How she was ACCEPTED in the king's sight. v2.
She obtained favour…he held out the golden scepter.
Rom 5v1-2, Having been justified, we now have "access…into this grace in which we stand."
3. Where she APPROACHED. v2
She drew near … touched the scepter.
Heb. 4v16; 10v19. James 4v8. Jesus has ascended into heaven and in all our trouble and trial we can come into his presence; we can touch the throne of grace. The king was a proud and dangerous man. Our Father is a gracious God; Jesus is our sympathetic High Priest, who knows because he has been here and experienced all (sin apart) before us. Go to him.
4. What was AVAILABLE. v3,6.
He encouraged her to ask, and to ask even up to half of his kingdom.
He encourages us to ask and to ask in faith. Touch the throne. His resources are unlimited, Phil.4v19; Haggai 2v8. The only limit is that we ask "in his name"- whatever his holy name can be attached to.
5. When she ASKED. v4,87v3-6
Whatever business the king may have had all is put aside in favour of the business that the queen may have.
He is ready to listen to you. Pour out your heart at the throne.
Esther asked for the salvation of her nation.
Take all your personal troubles to him but also still have a world vision for the needs of the lost.
10. LIVING AT FLOOD TIDE:
STEPHEN THE FIRST CHRISTIAN MARTYR – ACTS CH. 6:8 – 7:60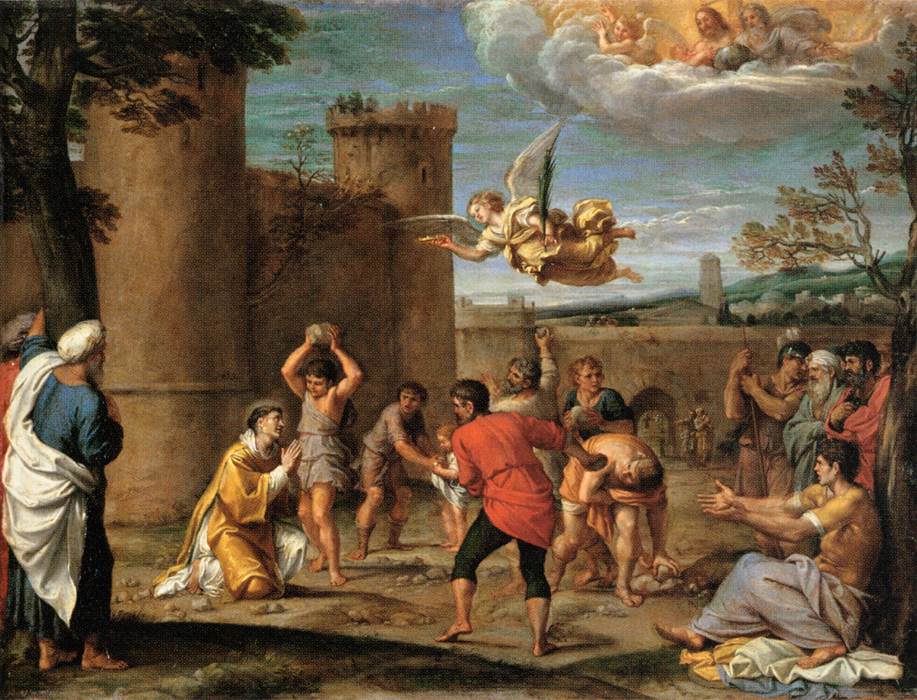 The energy of the ocean and the expanse of the sea can be beautiful yet so powerful! The power of destructive winds blow fierce and storms hit hard.
But the sea is also constructive when the waves are harnessed and used. Stephen was one of the seven deacons, chosen to serve in the daily distribution for the widows in the church in Jerusalem. How powerful was his own personal walk with God! He became the first Christian martyr, greatly lamented by the brothers (8:2). Because of what we read about him in Acts 6 and 7 he has been called "the man who lived at flood tide".
He was:
Full of faith 6:5
This faith was a faith no doubt nurtured by the reading of the word of God and by prayer. Always start your day with God. Through his word, God will speak to you. Verses will jump out of the page with special challenge, special meaning. As God talks to you, you need to commune with him and your faith will grow. You will then know what it means to be "full of faith."
Full of the Holy Spirit 6:5
Stephen had something about him…or rather Someone. Jesus promised, "You shall receive power when the Holy Spirit is come upon you and you shall be witnesses…" Acts 1:8. He came at Pentecost. "They were all filled…" 2:4. Stephen had this fullness. The spirit has come upon so many down through the centuries. Today he can fill you; pouring waters upon him who is thirsty.
Full of Grace 6:8
Stephen suffered hostility, accusation and persecution, 6:15 "all who sat in the council saw his face as it had been the face of an angel." Also 7:60, as he was being stoned could pray, "Lord, do not hold this sin against them," (Cf. Luke 23:34). His way of responding to hostility with grace showed something of the real love Stephen had for his people. His heart was deeply burdened for them. Have you this love, this heart for the lost?
Full of power 6:8
There was a presence about Stephen which came from the reality of God in his life! You too can enjoy a living relationship with God day by day and he can empower you. Isa. 40:29 affirms that God "gives power to the faint, and to him who has no might he increases strength." Is the stamp of God evident about you?
Full of wisdom 6:10
They (the Jewish Council) "could not withstand the wisdom and the Spirit by which he was speaking." In his defence in Chapter 7 he demonstrates his knowledge of the OT.
Concerning the temple, he speaks of Abraham meeting God `in Mesopotamia, Moses in Sinai at the burning bush; Solomon who can acknowledge concerning God, heaven is his throne; the earth his footstool. How could he be confined to a house? (7:49-50).
He reminds them how the Jewish people had consistently rejected their leaders. Virtually all their deliverers had been despised at one time or another; Joseph, Moses, and now the Messiah himself and his salvation. They belonged to a nation which right from the moment the law was given rebelled against the giver and against the true worship of God and turned to idolatry. This survey demonstrates Stephen's full knowledge of the OT.
Do we know the word as Stephen did? Do we have his faith, his fullness, his power, his love? Do we live at flood tide?
9. To glorify Him
The months of 2020 stretch out before us. What is our goal? Of his people of old and his people now he desires one thing of us. As revealed in Isa. 43:7 he had created us 'for my glory'. So, we ought to live in 2020 with the purpose of glorifying him.
Jesus did this, Jn. 17:4 'I have glorified you on the earth, I have finished the work you gave me to do.' So we also should GLORFY GOD in 2020. How can we glorify him?
With our praises Ps. 50:23 'whoever offers praise glorifies me' NKJV. Surely you have much to thank him for?
In our consecration 1 Cor. 6:20 'Glorify God in your body.' Our body is the temple of the Holy Spirit and we must keep it holy, , free from all forms of immorality, in deed or thought. You are bought with a price, and what a price!
Through our works Matt. 5:16 'Let your light shine before men.' How? By our words or our spoken witness? No. 'that they may see your good works…' It is your Christian lifestyle, lived before men that makes the difference in glorifying God. .
With our fruitfulness Jn. 15:8. 'By this my Father is glorified that you bear much fruit.' As you abide in Christ it will bring the enabling to be fruitful for him.
In our receiving of one another Rom. 15:7. 'Receive one another to the glory of God.' Acceptance of one another, showing grace, understanding, glorifies him.
With our faith in the promises of God Rom. 4:19-21. Abraham's body was 'as good as dead (since he was about a hundred years old)' but 'No unbelief made him waver concerning the promise of God, but he grew strong in his faith, as he give glory to God, fully convinced that God was able to do what he promised…'
As we step out into the coming months of 2020, in his will, God has given us – it has been estimated – over 30,000 promises in his word. Claiming, trusting in the promises glorifies him! Do not frame them – as a picture on your wall – claim them.
Live to glorify him…
8. Stepping Forward into 2020 – with God.
Ex. 33v1-17.
At Sinai, after the sin of Israel when they worshipped the golden calf, God speaks in Exod. 33 to Moses, 'Go up from here…' He was to depart and take the road to Canaan.
But this was A DEPARTURE WITHOUT THE LORD v1-3
God had promised the land of Canaan to the Patriarchs unconditionally. The people had broken the covenant made only a few weeks before (19v5, 8) – see v1 the people 'which you have brought up.' Not God, but Moses! He now sends an angel before them, not himself. We read: 'I will not go up among you.'
What was the reason? They were a stiff-necked people, disobedient. He cannot walk with such a people without consuming them. So, he sent his angel to remain faithful to his promise. But again, not himself…
The church today – has God withdrawn his presence from us? Cf. Rev. 3v20 – Jesus is outside the door!
We need to ask ourselves: 'Are we stiff-necked in any way? How obedient are we? How surrendered? Can God walk with us? Can God be in the midst of us? Do we have his presence? Are we knowing God's best? Are we also worshipping idols?
Now there was DISTRESS BEFORE THE LORD v4-6
When they heard this 'disastrous word' the people 'mourned'. The Hebrew word means to sorrow or lament. Their drinking and playing (32v6) was turned to sorrow. They were a people who gave evidence of repentance from their wandering in ch. 32. They stripped off their ornaments at Horeb.
There was a recognition of their DISTANCE FROM THE LORD v7-11
Moses took the tabernacle and pitched it without the camp. Here we have a solemn act symbolising the removal of the presence of God and the excommunication of the people. A holy God could not dwell among them. Here was Moses' acceptance of God's verdict on the people. What is God's verdict upon us? Do we need a fresh vision of the holiness of God?
The people gave evidence of genuine repentance, for when they saw the pillar of cloud over the tent they worshipped every man at his door. They were no longer worshipping the golden calf but the living and true God. He was given his true place again. I ask: Have we? Are we ready to do this? Do we worship him alone?
Lastly, we have the precious DECLARATION BY THE LORD v12-15
Moses prays. He refers to the experience at the burning bush when God called to him 'Moses, Moses' and to his grace. Now that the people had repented and given evidence of this what would God do? Who would he send with the people? They were still God's people. Moses would lead them but not alone…
See v14 'My presence shall go with you…' They had been restored to full covenant favour and his presence – not just that of an angel would go with them. If we get right with him, we too can experience the fulfilment of his promise in 2020. We too can know the reality of his presence and his power. Do we have full covenant favour?
Moses responds, 'If your presence will not go with me…' The most important thing for 2020 is to have God. No matter the roughness of the path, trials, disappointments, if God himself is with us what have we to fear? Matt. 28v20; Isa. 43v1-3; Heb. 13v5-6. It is time to make a fresh commitment to him, to worship him alone, to know his presence for each day…
7. Saved to serve
Recommitment for 2020.
GALATIANS 5:5-6
It seems no time since we entered the second millennium. Now it is 2020! Can we find a word from the Lord, a word from the Scriptures, which can present to us in a nutshell how we ought to live in the new year? We can find it here in Galatians 5:5-6. We must ask four questions.
WHO IS PAUL WRITING ABOUT IN THESE VERSES?
Note "we" THE PEOPLE. The pronoun is placed first for emphasis. He is writing about those highlighted in ch.2-5 – for them and them only. They are justified by faith, without works, without circumcision and the obligation to keep the law, part of the "Jerusalem above," all who have become sons of God. He has sent his Spirit into their hearts and they are heirs of God and joint heirs with Christ i.e., CHRISTIANS. Are you among them? You can be, by grace and the mercy of God.
WHAT IS THE POWER OR ENABLING THAT THESE CHRISTIANS HAVE TO BE ABLE TO LIVE EFFECTIVELY IN 2020?
Paul writes: "Through the Spirit"
THE POWER.
These Christians had been regenerated by the Spirit who had brought them to faith; they did not need to add circumcision or the obligation to keep the law. They were "a new creation," 6:15. Being born again of the Spirit, now they can go on in 2020 to live a life in the power of the Holy Spirit! Paul affirms in 5:16-26 that we must say "no" to the flesh, the fallen nature with which we were born which still wants to dominate and "walk in" or yield to the power of the Holy Spirit in our lives. This is how we can produce the fruit of the Spirit set out in 5:22-23. They were being troubled by Jewish teachers who told them that although they had trusted Christ for salvation they now needed to be circumcised and take on the obligation to keep the law. Paul urges them not to listen to them. Faith alone in Christ and his cross brought them full acceptance. They already had the Holy Spirit and he was all that they needed, 3:1-5. You have the power!
WHY IN 2020 SHOULD CHRISTIANS NOT BE AFRAID ABOUT ETERNITY?
The text says: "we wait by faith…"
THE PROSPECT.
Their present justification means that they wait with expectation of their acceptance being affirmed again in the final day. The mention of "by faith" recalls the other major emphasis of the letter we noted above. Justified by faith, not works, 2:16 following the example of Abraham's faith in 3:6. All "sons of God through faith," 3:26. Now we wait by faith, "we ourselves eagerly wait for the HOPE of righteousness."
Remember 1:4 that though we still live in this present evil age, through the cross Christ has already brought to his people the blessings of the new age – as we highlighted; justification, the gift of the Holy Spirit, the blessing of being part of the "Jerusalem above" and in 6:16, already part of "the new creation." Here the word"hope" as elsewhere in the New Testament has no uncertainty about it – the meaning is anticipation, expectation.. Stott (The One Way: The Message of Galatians, 134) explains, "…the expectation for the future which our justification brings, namely spending eternity with Christ in heaven…We do not work for it; we wait for it. We do not strive anxiously to secure it, or imagine that we have earned it by good works. Final glorification in heaven is as free a gift as our initial justification. So, by faith, trusting in Christ crucified, we wait for it." We are not afraid of the future. So what about the present?
HOW SHOULD CHRISTIANS LIVE THEIR LIVES IN 2020?
The text says "faith working through love"
THE PRACTICE.
The Christian life is not about being circumcised and law keeping. As we wait for His coming in 2010 in the power of the Spirit we are to "work/serve in love."
It is not that works of love are added to faith as a subsidiary and secondary ground of our acceptance with God. Paul never has implied that we are justified by love, either our love for God or others. We are justified by grace through faith in Christ crucified – his death for us. But we can add that the faith which saves is a faith which will manifest itself in works, or a faith which issues in love, in acts of service. As Fung (The Epistle to the Galatians, 230) asserts, "He (Paul) is saying simply that the faith which justifies is of such a nature that it will express itself through love."
Are we serving in love? In the church? Among those whose lives we touch? Or as the year begins, do you need to make a fresh commitment?
6. God "rests" in Him – Do you?
Hebrews 4:12 "Whoever has entered God's rest has rested from his works, as God did from his."
Sometimes life is so busy, or we have been working so hard that you feel the need to "rest up." Often those who have our best interests at heart will warn that if we continue to work at such an intensive pace without a break we are heading for trouble. We must rest. Hebrews here speaks of God resting.
In our text we discover first of all that God has been working. He worked in Creation and in six days all was prepared. Genesis reveals that tragically Adam and Eve rebelled against God's command by eating the forbidden fruit and transgressed. The whole of humankind was brought down under condemnation, (Romans 5:12).
Immediately God, in love, began to work again – this time in Redemption. Right from the start in Genesis 3:15 he promised to send a Saviour who would bruise the serpent's head, as his own heel was being bruised. He purposed this down the centuries and brought it to pass in that Christ came to take the wrath for sinners upon himself. The moment came when Jesus cried out on the cross "It is finished" (John 19:31). Now the God who worked in Creation and then Redemption "rests" in him. The price for sinners has been paid through God's own initiative in love. Hebrews calls upon us to now enter into God's rest in Jesus Christ his Son.
How will we know that we have entered into God's rest? The text says "Whoever has entered into God's rest has "rested from his own works…" No works of ours will ever bring us acceptance with God or atone for our sin. The crux of the matter is: If God is prepared to rest in the work of his Son for sinners on the cross, can we not also rest in him?
The young man could say to his friend, "there is only two letters of difference between what you are depending upon for eternity and what I am depending upon. But those two letters make all the difference in the world. You are depending upon DO; I am depending upon DONE."
Are you resting where God has rested?
5. What about Angels?
Hebrews 1:5-2:9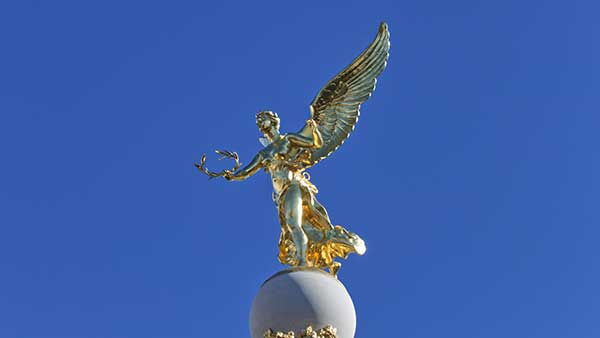 The Bible is full of angelic beings – in the Old Testament the first mention is in the garden of Eden (Genesis 3:24, Cherubim and a flaming sword, guarding the way to the tree of life). The first in the New is "the angel of the Lord" directing Joseph to take Mary to be his wife (Matthew 1:20).
Angels figure much in modern society, whether in stories of guardian angels, Christmas angels or songs – do you remember Robbie Williams' song and the line "I'm loving angels instead"? It is a fact that in this post-modern age people have a spiritual emptiness and there is such an interest in the occult, the stars and in anything ghostly or unseen. It is clear we need a clear doctrine of angels. At the beginning of the letter to the Hebrews the author makes the point that Christ is greater than angels; he has a more superior name than they, (1:4-2:9).
They are messengers
Their actual name means messenger and there is no doubt that they have been mightily used, e.g., Luke 1:11, 19, 26-38; 2:13-14; 22:43. They were also sent by God to release prisoners, Acts 5:19; 12:7; to direct messengers, 8:26; 27:23. But for all that, they were still only messengers. Christ has a name which is far more superior; he is the Son of God. Psalm 2:7 and 2 Samuel 7:14 are said to be fulfilled in David's greater Son. True, in Job 38:7 they are called the sons of god, but only in the sense that they were created by God.
They are worshippers.
Hebrews 1:6 affirms that when God brings his firstborn into the world he says, "Let all the angels of God worship him." Luke 2:14 records the moment this happened at Bethlehem.
In Col. 2:18 we are warned about angel worship. Some teachers were bringing in a host of intermediaries and felt that God was so great that one could not approach him directly. This is an occasion of false humility. Remember Rev. 19;10; 22:8-9, when John falls down to worship an angel, the answer comes, "You must not do that! I am a fellow servant with you and your brothers who hold to the testimony of Jesus. Worship God."
Angels are servants.
In Hebrews 1:7-12 Christ has a far superior nature to angels. His deity is here and his eternal existence. "Your throne O God" and "You are the same" is how God addresses the Son; but the angels are called "servants" (v.7). In 1:13 the author makes clear that God never invited any angel to sit at his right hand. They gladly hurry to do God's commands, (Is. 6:2). In 1:14 they even serve us!
We need to be on our guard about the present trend with regard to angels. A Times article wrote, "For those who choke too easily on God and his rules… angels are a handy compromise, all fluff and meringue, kind, non-judgmental." But we must hold to a proper angelology – and also recognise our accountability to God as our creator.
Angels are not to be worshipped. We worship the One they worship – God.
Angels are not to be praised. We praise whom they praise – Jesus the exalted lamb, Rev. 5:11-12. Do we also praise? Remember Heb. 10:25, "not neglecting to meet together…" Luke 24:53 "they (the disciples) were continually in the temple blessing God."
Angels are not to be served. We must serve the one whom they serve. Psalm 103:21-22. Angels do his bidding, obey his word, do his will – do we?
Angels are not to be sought. There is no salvation in angels. In Rev.19:10 we noted that they testify to Jesus. He alone is the saviour. No angel was the substitute for sinners, Heb. 2:9. He became man to die for sinners and to save us from wrath. He is the one to seek.
We must reject the present trend, remembering that such interest is sinister (2 Cor. 11:14). Repent of this interest before it becomes bondage and get a right understanding of angels and above all follow their example – believe there is a saviour who stooped below the angels, becoming man (Heb. 2:9) so that as man he might die for men. Call out to him for the mercy and forgiveness he has made possible by his death on the cross.
4. An Unshakeable Kingdom
Hebrews 12:25-28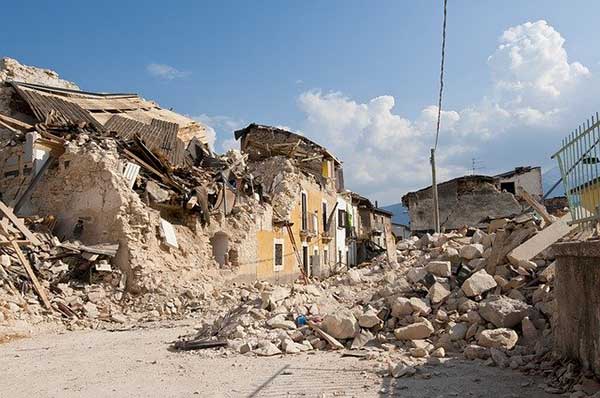 We live in a troubled world, in uncertain times. The news confronts us daily with the fact that economically, ecologically and politically everything is being shaken. People feel afraid, unsure of life, their whole peace shattered by change.
There is no doubt that the Bible prophesies that many things in our world are now and will be in the future, shaken. But we need not fear for here in Hebrews 12 we are assured that "the things that cannot be shaken" will remain. The writer assures us that, knowing the Lord, we are part of an unshakeable kingdom!
(1) God calls on his people to pay heed and listen to his voice, v.25. They must be faithful. There is a note of warning for those who have begun because of persecution to leave the Christian community and look back to their former Jewish roots and the temple. They are reminded the solemn consequences in turning away from the gospel would be even more dreadful than were the consequences of despising the law. "If they did not escape when they refused him who warned them on earth" – a reference to Moses – "much less will we escape if they reject him who warns from heaven." But there is also assurance and comfort here…
(2) They must also be trustful. The description of the events at Sinai (Heb. 12:18-21) is linked to a prophetic account in Haggai 2:6 of the last days. In Moses' day, the mountain shook, but in that coming great day the entire earth and also heaven will be shaken and removed. But here the author assures us that the people of God actually belong to an order of things which cannot be shaken! Christ is the one who controls the things that remain (Heb. 1:3;11-12). He upholds all things by "the word of his power." So, to this unshakable order belongs the kingdom which believers in Christ share. As Christians, we see the things which are happening in the world, but the news does not fill us with fear. We are part of a kingdom, the kingdom of God, needing no temple sacrifice, but grounded on that once for all sacrifice offered at the cross, (Heb. 10:11-13). THIS KINGDOM, WILL NEVER BE SHAKEN. The present form of God's kingdom is entered by faith in Christ and we look forward to the final kingdom when Christ returns! He can be trusted in uncertain times. In fact:
They must be worshipful, living in a spirit of adoring gratitude that we are part of this unshakable kingdom. Gratitude of heart, marked with worship that is offered because of our faith in the greatness, majesty and also the holiness of God. He is "a consuming fire"; the God who descended upon Mount Sinai in fire still consumes all that is unworthy of himself, Deut. 4:24. Let God consume it in us! Here the assurance is that neither the throne of God nor the word of God with its promises can be shaken! We do not need to be uncertain or afraid.
I have spoken, and I will bring it to pass; I have purposed, and I will do it. Isaiah 46:11
Not one word of all the good promises that the LORD had made to the house of Israel had failed; all came to pass…you know in your hearts and souls, all of you, that not one word has failed of all the good things that the LORD your God promised concerning you. All have come to pass for you; not one of them has failed. Joshua 21:45; 23:14
Blessed be the LORD who has given rest to his people Israel, according to all that he promised. Not one word has failed of all his good promise, which he spoke by Moses his servant. 1 Kings 8:56
3. Lord teach us to pray
Matthew 6:5-15
PART ONE
In Matthew 6 Jesus teaches the disciples about prayer. It is clear that Christians should pray. Jesus says, "When you pray"…. Not "if". The first thing we read about Saul of Tarsus after his conversion on the Damascus Road was in Acts 9:11 "behold, he is praying."
R.A. Torry writes on the importance of prayer:
– Because there is a devil, Eph.6:12-13.
– Because it is God's appointed way for obtaining things, Matt.7:7.
– Because the Apostles regarded it as having priority over service, Acts 6:4.
– Because it was so important in the Lord's life, Mark 1:35.
– Because in brings to us grace, help and peace, Hebrews 4:16, Phil. 4:6-7.
WHERE Should Christians Pray
There is a contrast between hypocrisy and reality. We see this in vv. 2-4 about praying in the synagogue or in the street in contrast to a secret place. In Jewish life there were certain statutory prayers to be said at fixed times and so a strict Jew could deliberately time his movements so that he would be in a public place at that time. They wanted people to see how "spiritual" they were. "They have their reward" Jesus says in fact they have it "in full." Not an answer from God but what they were really seeking – impressing men.
Jesus asks us to seek him in a private place – not with others around. "Go into your room…pray to your Father who is in secret…" France points out that Jesus is not forbidding public or communal prayer as such, but the opportunity to impress to which it is too easily prone. The essence of prayer is the communion of the disciple with his Father.
WHAT Christians should pray
Not with "empty phrases", vv. 7-8. Not "babbling" (NIV translation), a nonsense word we would call gibberish. So, there is a warning against mechanical praying "as the Gentiles do". Prayer in the non-Jewish world was often characterized particularly by formal invocations and magical incantations in which the correct repetition counted rather than the worshipping attitude or intentions. This is not a prohibition against repetition in prayer (see Matt.26:44 – Jesus prays three times in Gethsemene) but rather, thoughtless, mechanical prayer. It is not "many words" God responds to, but an attitude of prayerful dependence. God does not need to be bullied into taking notice. It's not the length of our prayers that matter but our motives. Let us be real, sincere, before God.
WHY Christians should pray
In v.8 Jesus gives us the assurance that God is listening and is interested in everything about us; we have the assurance of his being our Father who knows our need before we ask him, the assurance of his love as Father and his nearness. You can talk to him at any time.
PART TWO
We focus upon prayer again in this meditation. We have considered:
WHERE Christians should Pray;
WHAT Christians should Pray
WHY Christians should Pray;
Now HOW Christians should Pray
Matthew 6:9-15
The Lord's Prayer is so called because Jesus gave it to the disciples as a pattern for prayer, "Pray then like this."
We have an OPENING ADDRESS to God, "our Father in heaven."
THREE PETITIONS beginning with "your"; THREE PETITIONS about "us". So God comes first. Martyn Lloyd Jones explained that when we come to God we are not to rush in to his presence with our petitions; we are to place our hand over our mouth i.e., we are to stop and contemplate the One to whom we come, his wonderful love for us and his power and greatness.
He is "OUR FATHER" by creation, Acts 17:29; by second birth, John 3:3;1:12-13; by adoption, we are placed as sons, Rom. 8:15. We can come with confidence, a confidence of acceptance that he knows and cares. He sees the sparrow fall, Matt. 10:29-30.
He is THE ALMIGHTY "in heaven". The fact is he can do what we seek! He is sovereign and has all power! We can have faith in God.
There are THREE petitions beginning with "your"
His NAME "hallowed be your name"
We should hallow him in our worship. He is worthy of all our worship. There is worship before petition – remembering all that God is in himself and adoring him. We pray that others will also come to worship him and glorify him in their lives.
We should hallow him in our walk. We can't pray for his name to be honoured, while we dishonour it ourselves. To David, because of his sin, Nathan the prophet could say, "You have given great occasion for the enemies of God to blaspheme," 2 Samuel 12:14.
His KINGDOM "your kingdom come". This is a prayer for his present kingdom to spread in the world and to come finally at the end. Has the kingdom "come" in your life? Is he king?
His WILL "your will be done". Pray that his will may be done more and more upon earth. Are we allowing his will personally to be done in our lives? Do we submit to his plans for us?
There are THREE petitions beginning with "us"
"Give us this day our daily bread". God's PROVISION. Jesus is encouraging us to pray for all the things that concern our lives day by day. There is nothing too small to pray about – even an axe-head fallen in the water, 2 Kings 6:5.
"forgive us our debts…as we forgive…" God's PARDON. Sin is seen as a debt to God; but he can forgive us. In 1 John 1:7 we read "If we confess…he is faithful and just to forgive us our sin and to cleanse us from all unrighteousness." Note it is not "he is merciful and gracious to forgive…" but "faithful and just." God CAN forgive us righteously because of the cross. We had a debt but Christ took our indebtedness upon himself – praise his name!
"lead us not into temptation but deliver us from evil." God's POWER. Understand what this cry to God means. God will not "lead" anyone into sin – he does not tempt anyone, for this would be contrary to his holy nature, James 1:13. It is a cry to God to protect us from circumstances where we would face temptation and to "deliver" us, to give us the help, the power to stand against temptation.
What a great God we have! Are we in touch with him?
2. Perfect Acceptance.
Acts 3:1-11
The account of the healing of the lame man is uniquely placed in Acts reflecting the blessing that has come through Christ. The helpless man by the Beautiful Gate is a picture of humanity to whom the church is sent with a message which cancels disability, communicates strength, affirms acceptance and creates worship. The miracle can be a fulfilment of the prophecy of Isa. 35:6, as had already happened in Jesus' ministry, "So shall the lame man leap like a deer." These are indications of the arrival of the eschatological age, the age of the coming of Christ and the Good News. But what does the text say about the helpless man?
He was Deformed. He was "lame from birth," not through an accident or through disease but because of a congenital deformity. He was Helpless. He was carried i.e., he was without strength. He was Bankrupt. "To ask alms…" Lastly, he was Distant. Lying at the Beautiful Gate but not able to enter. He was not permitted to participate in temple worship (Lev. 21:17-20), forbidden to enter. Is this not a picture of the world for whom Jesus came and the world into which the disciples were to go?
Faith in Christ brought the blessing highlighted here, v.16. It has "given the man this perfect health…" This is such a precious picture. The word holoklērian (only here in the NT) is used in the Greek Old Testament for an unblemished animal, fit to be offered in sacrifice (Isa. 1:6; Zech. 11:16). So, the man who was before his healing "blemished" and barred from entering the temple is now accepted! He can now draw near to worship without hindrance! This is true for humanity, helpless at the Beautiful Gate. True for all who have come to faith in Christ. Ephesians 2:12-13 reminds us that you were once separated from Christ, alienated, strangers but now "brought near by the blood of Christ." The lame man could come to worship and enter in! Once stained, defiled by sin, unclean; BUT NOW you have perfect acceptance! Come into his presence just now and worship…
1. God is able!
In 2 Chron. 20:12 Jehoshaphat found himself and his people in a situation of crisis and real danger. The Moabites and Ammonites were on the way with their powerful armies to attack him. Here he cried to God for help. "O our God…we have no power against this great multitude that is coming against us; nor do we know what to do, but our eyes are upon You." The Spirit of God came upon Jahaziel the Levite and he announced, "Listen, all you of Judah and you inhabitants of Jerusalem, and you, king Jehoshaphat! Thus says the Lord to you: 'Do not be afraid nor dismayed because of all this great multitude, for the battle is not yours but God's…'"
Their enemies actually fought against and destroyed one another! It took Jehoshaphat and the people three days to gather the spoil. The God of Judah was ABLE! Their God is also our God and he is able to deliver us.
Able:
(1) In the PATH you TAKE – Jude v.24 assures us "He is able to keep you from stumbling." He can enable you to STAND.
(2) In the PRESSURES you bear. In trials and temptation Hebrews 2:18 reminds us "He is able to SUCCOUR (come to aid) those who are tempted."
(3) In the PROBLEMS you have to face – "My God shall SUPPLY all your need," Phil. 4:19.
(4) In the PROSPECT before you – he is able "to SAVE to the uttermost," Heb. 7:25.
(5) In the PRAYERS you offer – he is able to SEND THE ANSWER. Eph. 3:20 "Able to do exceeding abundantly above all that we ask or think."
Let us say like king Jehoshapat "Our eyes are upon you…"
Matt 9v28 'Believe ye that I am able to do this?'