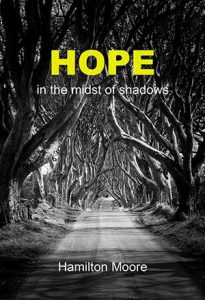 "My good friend Hamilton Moore has written this book to lift our spirits, enlighten our minds and above all to encourage our hope in our Eternal Lord." Pastor Val English
The book emphasises that 'that through the endurance taught in the Scriptures and the encouragement they provide we might have hope.' (Romans 15:4). It is available from most bookshops or by contacting: msemoore1@gmail.com
These books are £10 each(postage £3 extra) and can be ordered on the donate link below
OR
by contacting Coleraine Baptist Church Office.
by contacting Pastor David McFarland
Copies will be available in various churches. Ask you church if they can obtain one for you.
If you want a copy posted, please donate £13 to the Tell Romania Fund for Life and Learning which supports Pastors and Students in Romania, you will receive a copy in the mail at our earliest convenience. When making a donation please use the "Comments" field to specify what book or books you want.
Donations and payments can be sent by post to us. (Please do not send cash through the post. Cheques should be made payable to TELL ROMANIA)
TELL ROMANIA,
42B Bernice Road,
Newtownabbey
County Antrim,
BT36 4QZ.
Tel: 07812591743
dr.moore@tellromania.org
You can make an online donation or payment using PayPal. Do not worry if you do not have a PayPal account. This link will guide you through all the options. Donations are safe and secure and take only a few minutes.