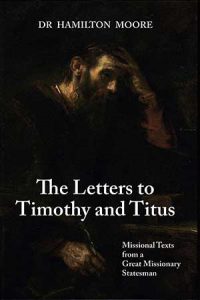 A commentary by Dr. Hamilton Moore
Missional Texts from a Great Missionary Statesman.
Hardback Cover. Over 300 pages.
All proceeds from the distribution of this book will be used for the "Life and Learning Fund" for Pastors and Students in the land of Romania.
The book is now available in English to download free of charge as a pdf file. Download here
The book is now available in Russian to download free of charge as a pdf file. Download here
The book has also been published in Romanian and the text is available as a pdf file. Download here
These Letters are of vital importance in any study of the New Testament. In them the Apostle Paul encourages, warns and teaches Timothy and Titus and in fact through them, the churches in Ephesus and Crete. The emphasis on being faithful to the truth and sharing the gospel through local Church witness and Christian lifestyle is as relevant now in the twenty-first century as it was in the first.
I hope this book will bring challenges to the church today to continue by these means to further the mission of God. It is primarily aimed at providing a resource for busy pastors, enabling them to understand how one can interpret the biblical text faithfully and practically for the benefit of the people of God.
Hamilton Moore
These books are £10 each (postage £3 extra) and can be ordered directly from Dr Moore.
If you want a copy posted, please donate £13 to the Tell Romania Fund for Life and Learning which supports Pastors and Students in Romania, you will receive a copy in the mail at our earliest convenience. When making a donation please use the "Comments" field to specify what book or books you want.
Donations and payments can be sent by post to us. (Please do not send cash through the post. Cheques should be made payable to HAMILTON AND SHIRLEY MOORE)
42B Bernice Road,
Newtownabbey,
Co. Antrim.
Northern Ireland
BT36 4QZ
Tel: 07812591743
You can make an online donation or payment using PayPal. Do not worry if you do not have a PayPal account. This link will guide you through all the options. Donations are safe and secure and take only a few minutes.